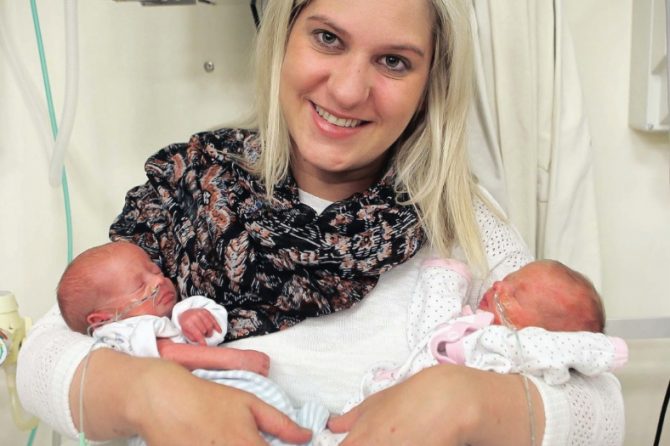 Daily News, Independent Media, Friday May 06, 2016- Bernadette Wolhuter, 
Sharon Gibbs got an early Mother's day gift this year. In fact, she got two.
The 31-year-old and her husband, Richard, from Westville, welcomed twins into the World last week. After battling to conceive for two-and-a-half years, the couple turned to in vitro  fertilisation(IVF) last year. There were many challenges, said Sharon. "But when I saw my babies, it was all worth it,"she said yesterday.
Sharon sufferred high blood pressure during her pregnancy and after a scheduled doctor's appointment it was decided the babies-named Emily Grace and Michael Craig – would be delivered early at just 32 weeks. The two are still in the neonatal intensive care unit at Life Westville Hospital, but they are doing well and are expected home soon.
"They're little fighters", said Sharon. She and Richard were thrilled with their two "Perfect little angels" and recommend other parents who were struggling to conceive to try IVF. They were also full of praise for their Doctor and founder of the Centre of  Assisted Reproduction &  Endocrinology (Care) clinic, Dr Anil Ramdeo. "Without Dr Ramdeo, I dont think I would have had my babies,"said Sharon.
On infertility, Ramdeo said it was important for women to have their ovarian reserves screened before going on to oral contraceptive pills. "They could also consider freezing their eggs, embryos and ovarian tissue for future use, especially if they have no partners,"he said. He also said women should not delay having children if they were planning a family.
"On average, we start with 2 million eggs in our mothers'wombs. This decreases to (between) 500 000 and 650 000 eggs at birth. By age 30, there is only 13% of our ovarian reserve left. At age 35, there is a rapid decline in the ovarian reserve. This is accompanied by an increasing number of abnormal chromosomes in the eggs as age advances,"said Ramdeo.
Leave a reply