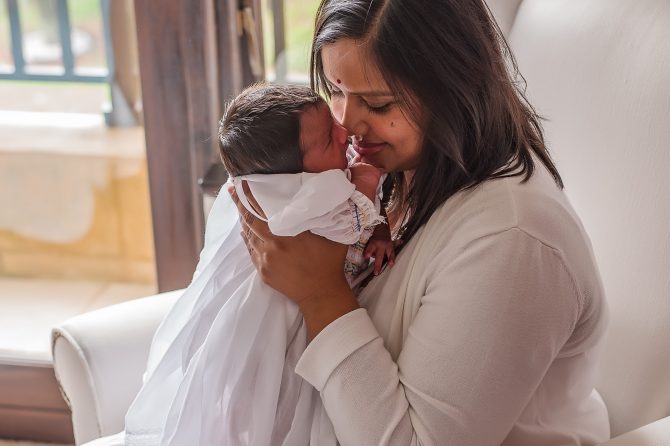 Photo by Sam Swiatek Photography
A Lived Experience
Over the last 9 months of this new chapter of my life, motherhood, I have had opportunity to reflect on the impact Dr Anil Ramdeo and his C.A.R.E team have had on my journey. It is said that when we are born, we embody the purest form of love, but often life experiences diminish this highest form of love. Since I held my daughter for the first-time last September I've felt a love that is impossible to describe. Perhaps the closest description I can muster is a "return to pure love". For this I owe a debt of gratitude to Dr Ramdeo and his team. Due to their commitment, precise execution of expertise, and selfless care and support my family is whole again.
Dr Ramdeo's approach to endocrinology and assisted reproduction is world class. As a health care professional, myself who is committed to health system strengthening I found Dr Ramdeo's set up an ideal example for how health service, irrespective of specialization, should function daily.
I recall my first appointment – I was moved by the humble, welcoming and comforting staff. The warm waiting room, responsive personnel, and initial interaction with Dr Ramdeo all confirmed that I made the correct decision by heeding a friend's advice to consider Dr Ramdeo's services for gynecological and reproductive care.
From his thorough history taking to actual delivery and post-delivery care Dr Ramdeo strives for excellence. He has an outstanding team of embryologist, nurses and administrative staff. Because each unit strives for quality, together, the C.A.R.E Clinic is extraordinary and an example of first world medicine. From the moment you arrive at the gate to the clinic you are met with kind and gracious staff. The professional receptionists are always available to appropriately direct your queries. Administrative and health insurance queries are dealt with efficiently and swiftly. This is because there are well-organized and resourceful operating procedures and systems in place that produce reports for prompt trouble shooting and decision making.
My consults with Dr Ramdeo were exceptionally detailed. What I appreciated the most about Dr Ramdeo, was that at every appointment – I saw a committed doctor, giving his all, not missing a
statement, painstakingly documenting, reviewing, analyzing, making life changing decisions – but he was always so engaging, understanding and present. Over almost 2 years I watched him note every consultation meticulously – normal or abnormal reading. A true practicing example of the medical motto "if it wasn't documented it wasn't done". He has a photocopier machine next to his desk where he methodically copies information, he shares with patients to save time and ensure he has a version readily available for reference. At every visit I was in awe at how he comprehensively reviewed my case notes before collecting more information to help him with his decision making. I was impressed at how he so willingly collaborated with my endocrinology team, dietician and neonatologist. He did all of this while never leaving me out of the decision-making process and always listened no matter how subjective the information I had to share. Dr Ramdeo gathers information from all sources (nurses, dietician, other specialists, patient, partner and laboratories), interrogates the information and reaches a final decision having conducted appropriate due diligence. I was also impressed that he regularly considered my psychological and emotional needs surrounding fertility treatment and how it relates to biological outcomes. In other words – he leaves no stone unturned.
In 2012 I lost my dad to cancer – and it was at that time that I lived an unfortunate experience of why it is so important to be over prepared when delivering health care. Dr Ramdeo was that example – despite his busy schedule in a dynamic demanding specialization he is constantly preparing. Weeks before delivery he initiates discussions about hospital choice, pediatrician and emergency services. It's almost like he has a journey mapped out with route markers displaying all possible scenarios that could happenand must be planned for and addressed before moving to the next stage.
Besides embracing collaborative work, Dr Ramdeo was willing to embrace technology. He was agreeable to learn about my continuous glucose monitoring device and promoted 24-hour BP monitoring at intervals. Although he embraced technology, I respected that he questioned the data. He probed results in relation to other factors and carefully considered the sensitivity and specificity issues of the device. Additionally, he used alternative methods to confirm results often collecting blood sample pre and post meals to precisely adjust my therapy plan using all information sources. Dr Ramdeo has an aggressive approach to maintaining ideal blood glucose and blood pressure readings in pregnant patients. But his commitment to care goes beyond the pregnant patient. It was very apparent that he is a promoter of balance for healthy living, sometimes sharing his own love of gardening and fishing to encourage work life balance through hobbies and rest. My journey for learning balance in motherhood began that very first day I met Dr Ramdeo, in July 2018, and his advice and words have resonated with me as I prepare to embrace being a working mother.
The C.A.R.E team supported me through my pregnancy, always answered every message and silently held my hand between visits. So much so that after delivery I missed my consultations with Dr Ramdeo and the team. So – you can imagine how surprised and delighted I was one night while prepping baby items when I received a call from Dr Ramdeo, enquiring how baba, mama and papa were doing! It was late evening – I pictured the day that Dr Ramdeo must have had – early ward rounds before 7am just as he had checked in on me at the crack of dawn when I was in hospital, meticulous engagement with patients and concern and worry regarding challenging decisions that need to be made in obstetrics daily – yet his day was not done and he found the time to check in with a smile!
A doctor by profession but more importantly a human committed to health and service delivery. Dr Anil Ramdeo's Clinic is an example of a best practice – right down to his message book which caught my eye at every visit. We often never hear back from a clinic or doctor when a test result is normal. Not Dr Ramdeo – C.A.R.E clinic means just that – they care and will call you back! When you meet Dr. Ramdeo– you see an approachable, kind, compassionate, passionate and caring human. You meet a man who is balanced – a doctor who is willing to listen – who treats every patient as family. You get to know someone who is willing to learn, admit error, take advice and grow. You see someone who puts their patient first, who is steadfast due to humble roots, a doctor who is there for his patient without reservation – someone who is positive – never focuses on the negative and who is an outstanding role model to health care professionals like myself but more importantly to parents who want to do and give off their best. His work doesn't stop at obstetrics, gynecology or reproductive care– his work went beyond that for me as Dr Ramdeo prepared my mind and body for fertility treatment, walked me through the treatment and held my hand right into motherhood.
And over the last few months as I remember to place emphasis on balance – I have an even greater appreciation for Dr Ramdeo – An outstanding fertility specialist, doctor, scientist and academic but more importantly an extraordinary human who does everything that should be done meticulously so that you can embrace your fate and destiny with no regret. If we could replicate Dr Ramdeo's model into every business model – private, public and nonprofit you would have an ideal health service delivery model that promotes improved patient outcomes. The C.A.R.E Clinic reflects Dr Ramdeo's methodical, systematic and cutting-edge contribution to health care. As a health care professional who has sought and delivered medical services in several countries
throughout the world, without a doubt Dr Ramdeo's model is the definition of "care".
With Deepest Gratitude
Dr. M Reddy
Leave a reply