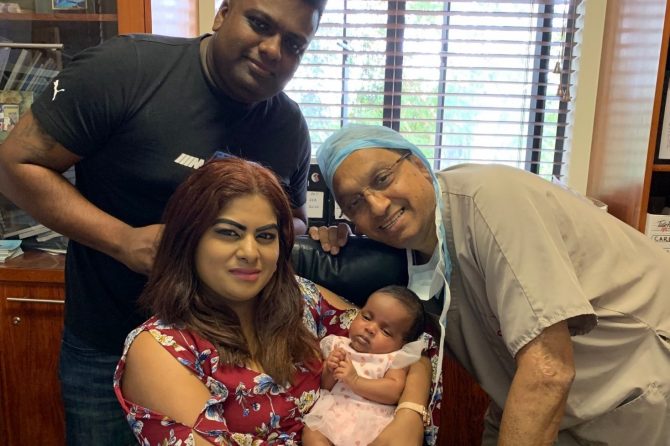 Most couples that are trying to have a baby find that a diagnosis of "unexplained infertility" is very frustrating. Leon and I were no exception. We sought answers from both our primary
care GP and gynecologist, and it was an exasperating experience.
After two years of failing to conceive, a friend recommended and raved about Dr. Anil Ramdeo and the Care Clinic. "We had our initial consultation with Dr. Ramdeo and his staff in 2014 and knew they were the right match for us."
Additional testing revealed that i had a few issues which required surgery. Dr Ramdeo and his staff performed my surgeries with professionalism and care in 2014, a few surgeries followed after which became a 7 year journey, however in 2019 we had finally fell pregnant. We were in shock. We couldn't believe that we were successful.
"The process was an emotional rollercoaster for us, but we tried to stay positive, thanks to Dr Ramdeo and his wonderful team our journey was and incredible one, both Dr and staff became
friends that genuinely cared for and helped us. We feel very fortunate to have had such success with our beautiful baby girl Katalina and thank Dr Ramdeo and his amazing staff at Care Clinic. I highly recommend Dr Ramdeo and the Care Clinic to anyone who needs compassionate care to build their family."
It worked for us and I want other couples to know that even if they have limited odds as we did, there is hope.
Leave a reply